Giuliana's tiny shop is brimming (!) with hats: Panama hats, gondolier's hats, hats for the carnevale, waterproof hats, woolly hats, wedding hats…
Since 1980 Giuliana has imported her Panama hats directly from Ecuador.
Nearby placenames (such as the Ponte dei Bareteri on the left and Sottoportego del Capeer on the right), suggest that a hatmaker's shop has always been found in Calle del Lovo.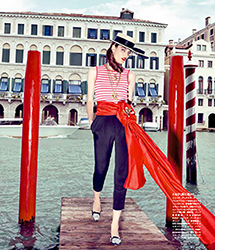 "I was in Venice for work recently, and I desperately wanted a gondolier hat — a real one, not one of those souvenirs they sell on the street corners. I went to Giuliana Longo, a store that makes them, and bought four…"
Giovanna Battaglia – W Magazine

"Hats off to Venetian milliner Giuliana Longo!"
The Venice Times
Locale Storico del Veneto.